Running and managing a business is not for the faint of heart. Day-to-day HR responsibilities, complying with fluctuating regulations and growing reporting requirements can drain in-house resources. Stir in payroll and accounting duties and you can have a recipe for meltdown.
Rather than add staff or ask your team to do more with less, let the power of technology work for you. We've identified 3 common payroll challenges that not only hurt a businesses' efficiency, they can chip away your profit margin.
The Challenges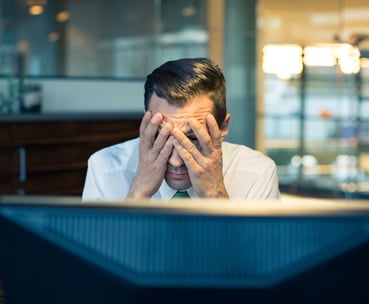 Administrative Overload- The complexities of keeping accurate employee time and attendance records, in addition to health care benefits and paid time off, can cost even small businesses numerous hours of processing. Eliminating manual calculations with an automated time and labor management system can allow you and your staff to focus on core human resource functions.
Staying Organized- Another daunting task is keeping important payroll and employee records organized in a central, secure location and creating a uniform filing process. A workforce management system enables you to eliminate paper forms and streamline administrative tasks and manage routine human resource duties. A flexible, cloud-based solution that integrates time and attendance, human resource functions, payroll and more allows you to manage one employee record throughout the employee life cycle.
Software Incompatibilities- It's not uncommon for businesses to use one program to manage employee demographic data and performance detail and another for pay and benefits. Multiple data systems leave room for costly errors. A program that can integrate all of your HR functions will streamline your overall process and reduce the amount of time spent on data input, allowing you to work more efficiently.
The Solution
Inspire HCM. Today's competitive business environment requires you to do more with less and your business needs are greater than just payroll services.
Our customizable, cloud-based platform handles all of your payroll and HR-related activities and has the functionality today's businesses need in an easy-to-use single database system. With the flexibility to adopt specific suites of services based on your needs, you will have all of the capabilities you need, without paying for the ones you don't.
Time and Attendance

Timekeeping
Web access, mobile app, time clock
Labor projections

Accrual and Absence Management


Eligibility
Sick and paid leave tracking
FMLA management

Human Resources

Applicant tracking
Onboarding
Benefits and performance management
Workflow automation

Payroll

Processing
Pay rule engine
Built in tax support
Removing these important but necessary administrative tasks frees up time and resources and allows you to focus on the bigger picture- growing your business.
To learn more, join us for our December 14 "Simplify Your Payroll Processes" webinar for a demonstration of this state-of-the-art system.
Or, for more information and pricing, email payrollsupport@bukaty.com.