The Equal Employment Opportunity Commission (EEOC) released an updated Know Your Rights: Workplace Discrimination is Illegal poster this past week.
The poster should be displayed in a conspicuous location in the workplace, visible to applicants and employees. A supplemental digital posting also is recommended on employer websites, such as on job posting, company history or home pages. Electronic postings alone are allowed for employers who have no physical work location for workers. The updated poster includes
more straightforward language and formatting

,

an explanation that sex discrimination can encompass pregnancy and related conditions,

sexual orientation and gender identity

,

a Quick Read (QR) code link to EEOC information o

n how to file a discrimination

complaint, and

a section addressing equal pay discrimination for federal contractors.
For additional information, contact your Bukaty benefits consultant at 913.345.0440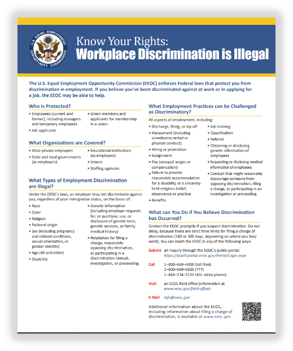 .