News of the 2017 rate increases for health insurance plans on Healthcare.gov have a lot of people spooked. Premiums for health insurance available through Healthcare.gov are expected to be, on average, 22% higher this open enrollment (November 1, 2016 – January 31, 2017). The increases are due to a number of factors, including significant losses experienced by health insurers and the phasing out of the transition reinsurance program, an Affordable Care Act (ACA) provision designed to help stabilize premiums in the individual marketplace.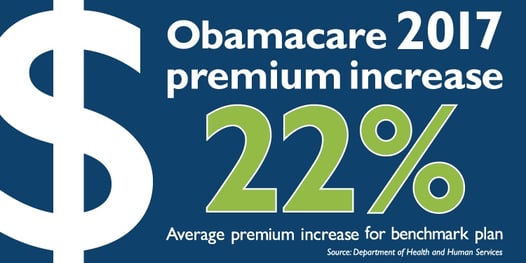 While the sticker shock has many concerned about the future of Obamacare, nearly 85% of enrollers through Healthcare.gov receive federal subsidies, which can lower their premiums to less than 10% of their income. For those who qualify, cost-sharing reductions can lower out-of-pocket costs such as deductibles, coinsurance, and copays.
The subsidies, also called premium tax credits, are available to households with income levels between 100% an 400% of the federal poverty level. The lower the income, the more subsidy available. Other factors affecting subsidy amounts are the cost of available insurance coverage, geographic location and family size.
Data collected by the Kaiser Family Foundation (KFF) illustrates the premium swings throughout cities across the country over the past year. The 2016 analysis shows the second-lowest-cost silver premium for a 40-year-old non-smoker was as low as $186 per month in Albuquerque, New Mexico, to a high of $719 in Anchorage, Alaska. In 2017, the lowest cost coverage for a 40-year-old non-smoker ranged from $229 a month in Louisville, Kentucky, to a staggering $904 a month in Anchorage, Alaska (prior to a subsidy).
Premiums reported for Wichita, Kansas, increased 46% since last year for the second-lowest-cost silver plan, from $248 to $361 a month. In St. Louis, Missouri, the increase was a more moderate 8%, from $287 to $310 a month.
A decrease in insurer participation also has consumers concerned. Losses experienced by UnitedHealthcare, Aetna and other carriers have reduced the number of insurer options both on and off Healtcare.gov. According to KFF, in states that use Healthcare.gov, the average number of insurers participating in the marketplace will be 3.9 in 2017 (down from 5.4 companies per state in 2016).
With limited carriers, limited networks and more costly premiums, it's important consumers understand their enrollment choices. We have certified FFM-enrollers onsite to provide unbiased guidance for those interested. For a free, no-obligation quote, call 913-333-3380. Don't have time to talk, let us know how we can help you.